Travel
The Wikitravel page on Busan is an excellent reference on the different ways to travel to and get around Busan, in addition to advice on lodging, eating & drinking, and sightseeing.
Haps Korea Magazine has guides to beaches, museums and restaurants and a calendar of upcoming Busan events.
Lodging
To help you select your lodging, here are three example hotels at three different price points and in three different neighborhoods, along with instructions for how you would get from that neighborhood to the symposium events at Daedong College:
Haeundae District
Address: 9, Gunam-ro, Haeundae-gu, Busan, 48095
Located in the upscale Haeundae District, this hotel is the furthest from Daedong College, but is in a nice area, close to beaches, museums, coffee shops, restaurants, and other tourist attractions.
Metro to Daedong College:
Line 2: Haeundae – Suyeong (5 stops)
Line 3: Suyeong – Yeonsan (4 stops)
Line 1: Yeonsan – Pusan Nat'l Univ. (5 stops)
Note that Busan Nat'l Univ. of Education and Pusan Nat'l Univ. are different schools and different metro stations. The metro router planner may suggest using the Donghae line, but we recommend Line 3 has more frequent trains.
Seomyeon District
Address: 777, Jungang-daero, Busanjin-gu, Busanjin-Gu, Busan, 47251
The Seomyeon District in central Busan is a bustling, urban environment — the original city center of Busan. This hotel is not far from Daedong College and is good if you enjoy an urban environment.
Metro to Daedong College:
Line 1: Bujeon – Pusan Nat'l Univ. (8 stops)
Dongnae-gu District
Address: 23, Geumganggongwon-ro, 20beon-gil, Dongnae-gu, Busan, 47709
The closest hotel to Daedong College, Nongshim Hotel is in the Dongnae-gu District of North Busan, close to hiking and Pusan National University. There is also a spa and hot springs inside the hotel.
Metro to Daedong College:
Line 1: Oncheonjang – Pusan Nat'l Univ. (1 stop)
Getting from your hotel to Daedong College
For the Seomyeon and Dongnae-gu Districts, the Metro is the most efficient way to travel to Daedong College.
For the Haeundae District, KISS attendees can take the Daedong College student shuttle bus between the Ramada Encore Hotel and Daedong College. The shuttle bus will run on a fixed schedule (one per day in each direction); the Metro (or a taxi) can be used for travel at other times.
Metro: The metro system is fast and easy to navigate. The closest metro stop to Daedong College is the Pusan National University stop. It is a 10 minute walk from the metro stop up the hill to Daedong College. Here's a link to the metro map and route planner.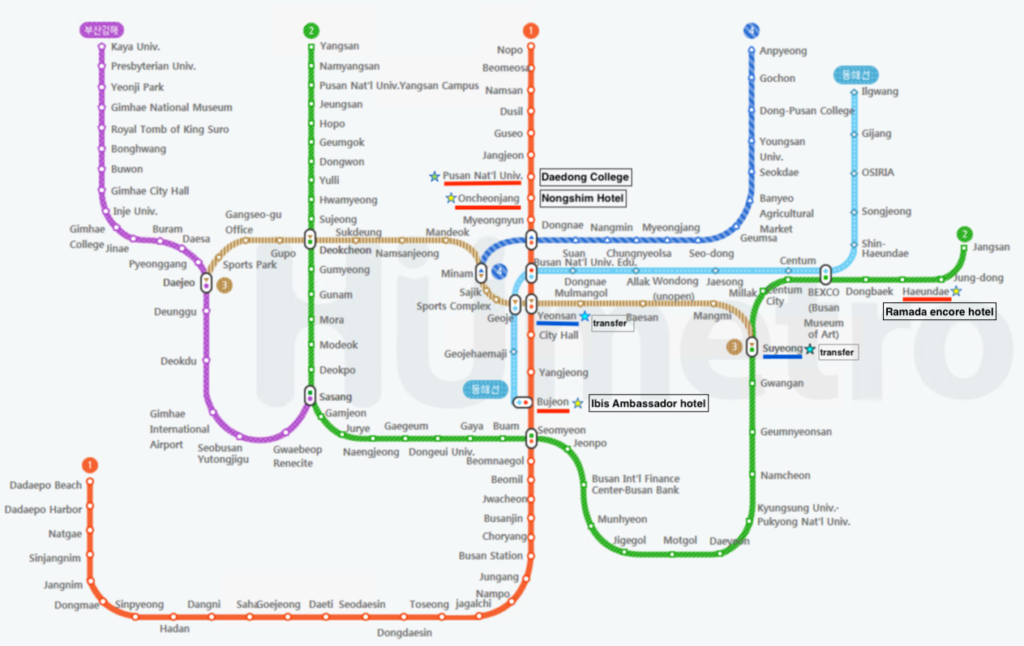 Shared rides: Note that Uber is banned in Korea, but it is easy to find a taxi, especially in front of hotels. It's not a bad choice if you can find some friends or fellow symposiasts to share a ride and avoid the rush hour.
Getting to Daedong College from the Metro Station in 20 Seconds
---
Information as of 20 August 2019. Details are subject to change. Please check back or visit our Facebook page for news and announcements.